Bed&Breakfast Ornat Etxea
Customers' review
Read the comments written by customers hosted in Ornat-etxea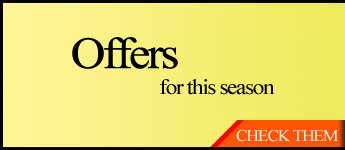 Sangüesa / Javier / Leyre / Sos of the Catholic King
Sangüesa, as the region's main city, became centuries ago a residence of the Kings of Navarre. Close to the border with Aragon, was a stronghold from which the Kingdom of Navarre was defending its territory. It is said that the mother of the spanish king Fernando the Catholic left Sangüesa shortly before giving birth to him to go to the neighbouring village of Sos, Aragon, so, in this way, her child may also have rights to the throne of Aragon. In Sangüesa, is a compulsory visit the Church of Santa Maria, whose cover is well-known among art connoisseurs.
Just about 10 kilometers far, the castle of Xavier, bastion of the Kingdom of Navarre and birthplace of Saint Francis of Xavier, Navarre, missions and Basque's patron saint, and to its chapel are performed each year pilgrimages known as 'Javieradas'.
10 kilometers from Xavier, and nestled in the mountains of the Leyre, the monastery of Saint Salvador of Leyre, centuries ago seat of power in the region, and where the first Kings of Navarre are buried (then still called you Kingdom of Pamplona), from Iñigo Arista to Sancho Garcés II.
Between Sangüesa andthe border with Aragon, a former bastion of Defense, Peña's Tower, nowadays abandoned place.
And near Sangüesa the picturesque village of Sos of the Catholic King, with its narrow streets and its refined medieval appearance can be also visited.
For more information:
www.sosdelreycatolico.com